On the biggest stage, with more people than ever before watching, participating and urging them on, Sydney Football Club worked harder than at any time in their club's history to achieve their goal. Everyone played their role – the back line, the forward line, the ruck and midfield.
And when the dust had settled, an astonishing 20 out of 22 Swans had polled votes in the Rhyce Shaw Medal. How to split the incompetence intensity, the clangers clashes, the lack of fight shown?
We vote. This ain't North Korea.
And so while many people blindly voted for Swans such as Malceski (arguably) their best player and Franklin (same), we proudly stand to support their right to democracy, despite the idiocy of their choices and the vacuous, empty nature of their minds.
In the end it really came down to just four players:
4. Sam Reid
22 points (2 first place)
Led the game in yelling angrily at his team-mates, pointing aggressively and losing his man. His bald head was successful in looking egg-shaped, but unsuccessful in blinding opponents by reflecting the sun into their eyes. I'm assuming that was his key task for the day.
Must improve: kicking, handballing, tackling, manning players, recognising that it's mostly his fault when he's yelling angrily and pointing aggressively at his teammates.
On the plus side though, now that he's racked up some votes in the RS, he's got something to talk about with his brother Ben.
3. Gary Rohan
36 points (8 first place)
This author's personal pick, the fiery running ranga who was almost Best on Ground against the Kangaroos the week before may have accidentally switched places with Ed Sheeran after the pregame performance.
It seems to me that it's always a bit of a worry to be named your team's x-factor. Rarely, rarely have I seen that work out for players. Daniel Motlop, Leon Davis, Cyril Rioli, Steve Johnson…
The Herald Sun and Fox Sports both had Rohan dead last in player ratings – one of the first times in a while the voters have disagreed.
By the way, it is a nationwide disgrace that we are yet to enjoy a gif of Gary Rohan's attempted running bounce.
LIFT YOUR GAME INTERNET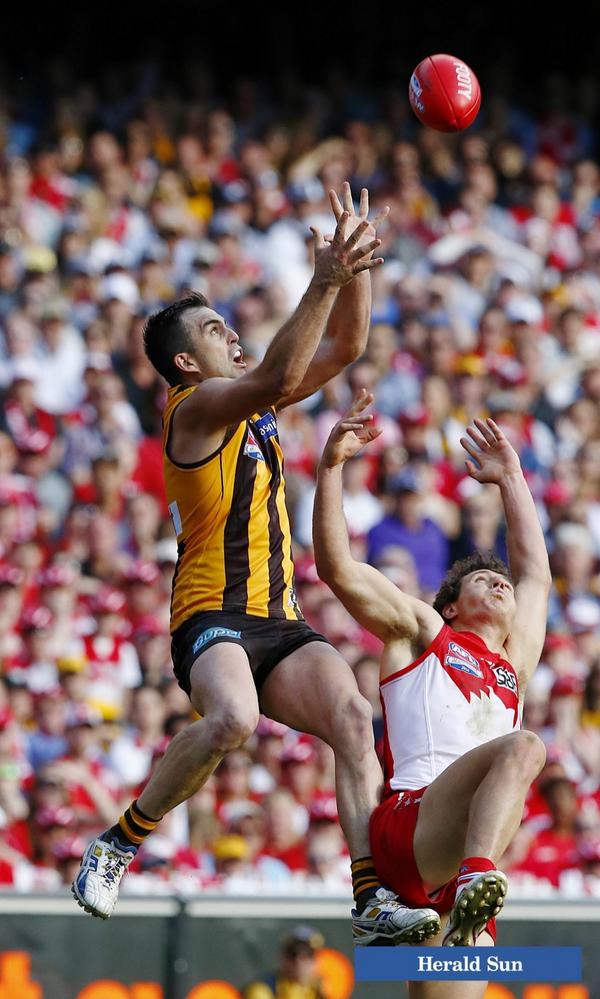 2. Kurt Tippett
72 points (16 first place)
The ever-eloquent and classy Brendan Fevola has already given his considerably weighty thoughts on Tippett via Twitter, but the Rhyce Shaw voters sit firmly in Fev's camp here. It wasn't that Tippett got no touches – he had 16, not terribly bad by Sydney's standards on the day. It was more what he did with them.
He tried to out-dummy Cyril Rioli, the king of dummies, not once but TWICE (both unsuccessful), which saw him pull a vintage Rhyce Shaw move – playing above your station. It was just icing on the cake that he was pwned by a former Medallist.
And then, of course, there was the borderline miraculous ability to get Cazaly'd by Brian Lake…BRIAN LAKE? Even writing that myself, I thought it was a typo.
And let's be honest. The Rhyce Shaw Medal originated from Adelaide, a place where Kurt Tippett is not exactly universally beloved. This probably played a role in the votes.
That, and the look on his face when Rioli ruined his cool tricks.
1. Lewis Jetta
93 votes (21 first place)
In the end, by a fairly comfortable margin, was Lewis Jetta.
I have a little sympathy for Jets. The man got a knock to the head. Or the neck/headish area, as he cowered from a medium-large hit. Apparently not significant enough to be designated as a concussion or to take him off the field, but significant enough that he sat out half a quarter on the bench. Or longer? Honestly, he was so rarely near the ball it was difficult to tell.
I can only assume that the Hawks staff cheated by putting a similar magnetism on Jetta's jumper as you did the ball, like two positively charged ions. It's no wonder the poor fellow couldn't get his hands on it! The clearest moment of this flagrant Hawthorn magnetic cheating was in a poor mimicry of the 2012 sprint off. In 2012, Jetta famously left Rioli in his wake as he sprinted down the right wing of the G, in a moment that perhaps summarised Rioli's game and earned him the Shaw.
This year, Jetta sprinted after Hawthorn speedster Bradley Hill, only for Hill to slow and, effectively, toy with Jetta. Instead of corralling Hill, Jetta desperately flung himself in front of him, mimicking his movements in a mime-like fashion without getting anywhere near the ball. It's about as close as he did get to the ball in the first half.
<DEAR INTERNET: INSERT GIF OF JETTA HUMILIATION HERE. THANK YOU>
So Jetta, with 93 votes, takes out a well-deserved Rhyce Shaw Medal for 2014. The same amount of votes that Hayden Ballantyne got in 2013, though nowhere near as overwhelming a selection.
Our man Rhyce himself had a strange game. Lots of touches but poor disposal, particularly a telling one where, looking straight at the play, he handballed to Mike Pyke…who immediately got hammered into the ground. He didn't leave Canada for that kind of treatment.
Yet, frankly, it was probably a better weekend for him than for his brother.
As for Jetta?
Well…he's not taking it as well as hoped.
Next year I'm looking forward to Sydney making another run at it and yet another biggest Rhyce Shaw Medal ever.
Thanks to all who voted and who have liked our new Facebook page.
It's a Shaw thing.
Mike
PS – Shout out to Sportsfan.com for having the same three goats that the Rhyce Shaw voters did.